WE WOULD LOVE YOU TO JOIN US.
Thinking of coming along?
We are so glad you are thinking of coming along to our church community gathering on a Sunday. We love meeting new people.
We know that many people have never been to a church before, or have never been to a church like Liberty before. Here is some info about us that we hope will help. If you have any other questions please email [email protected] or message us on social media.
PS all the pictures are from Liberty Church London. To help you see who we are!
Here's what to expect.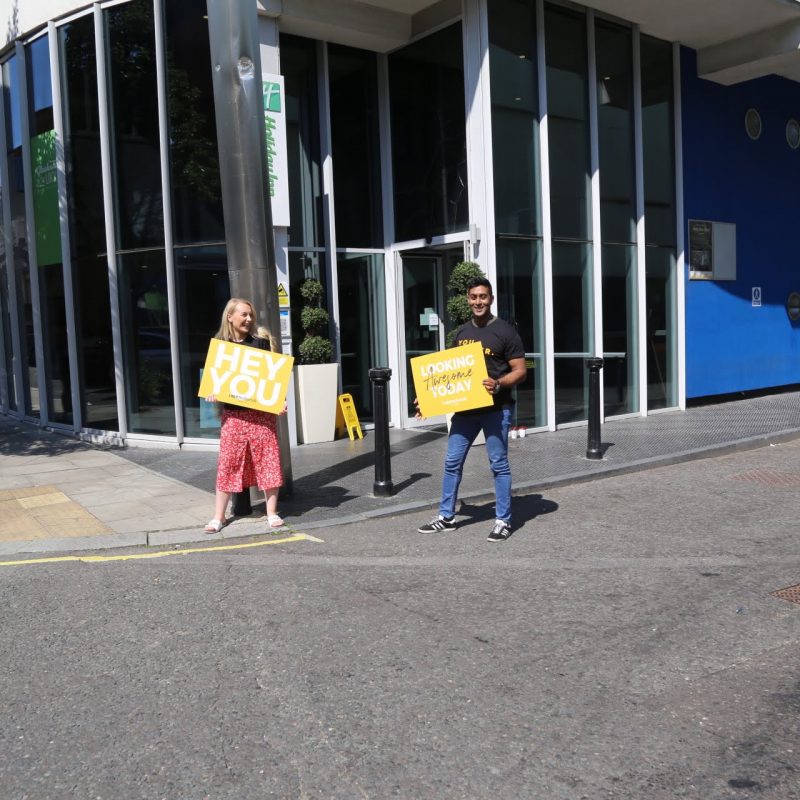 Arriving at the venue.
We meet at The Holiday Inn, Camden Town (just off the high street).
Our lounge opens at 10:30am so please come anytime from then. There will be people on the door holding bright yellow signs (as modeled here by Meg and Chig).
If there isn't anyone around (they may be helping someone into the venue) then please just come in. We meet on the Lower Ground Floor, there are lifts in the reception.  The hotel staff are great and would be happy to help you too.
Grab a tea or coffee in "the lounge".
We are passionate about creating authentic community together. The doors to the auditorium open just before the service starts, because we know that community begins with connection. Our lounge is such a good connection point.
We have refreshments like coffee, a selection of teas, and cooled water available in our lounge.
We also have a prayer and praise station in the lounge where you can submit prayer requests.
What's the church service like?
The service itself is quite relaxed. The music (we call it worship, because the songs are about God) is modern rather than hymns. We don't use hymn books; the lyrics are displayed on TV's, so are the bible readings in the message.
The message (we don't call it a sermon or preach), is always based on the bible, it should be easy to understand but can also have challenging element. Challenge is important to us because we hope to become more like Jesus.
We have an offering moment in every service. This is for people who call Liberty home. There is no obligation or pressure for guests and visitors to give. In fact we give every first timer a Liberty Church London 'keep cup'.
To those who come back for a second week, we give a £5 gift voucher for a coffee shop chain. (The first week we give you a coffee cup, the second week you get something to put in it!)
What about kids?
We have just restarted our Liberty Kids for Primary kids aged 2+.
When you arrive you can register your kids in the lounge. They will be in the service for worship (music). In the middle of the service we have a "three minute mingle" as short break when you can take your registered child to the lounge where the team well take them up to the Liberty Kids room (an upstairs conference room).
The team will bring them down at the end of the service.
Anything happen after the service?
Yes! We are all about creating authentic community together. So after the service we always head over the canal to Camden Food Market (literally a 1min walk). Everyone grabs some food from one of the vendors (or a local shop) and we eat together.
If the weather is nice we move out of the very busy market to a small park a few minutes walk away (you can get a map from the lounge).
If it has been raining so we don't want to sit on the grass, we stay in the market.
If the weather is really bad we will go to the Whetherspoons next door to the hotel.